Main content starts here, tab to start navigating
Daily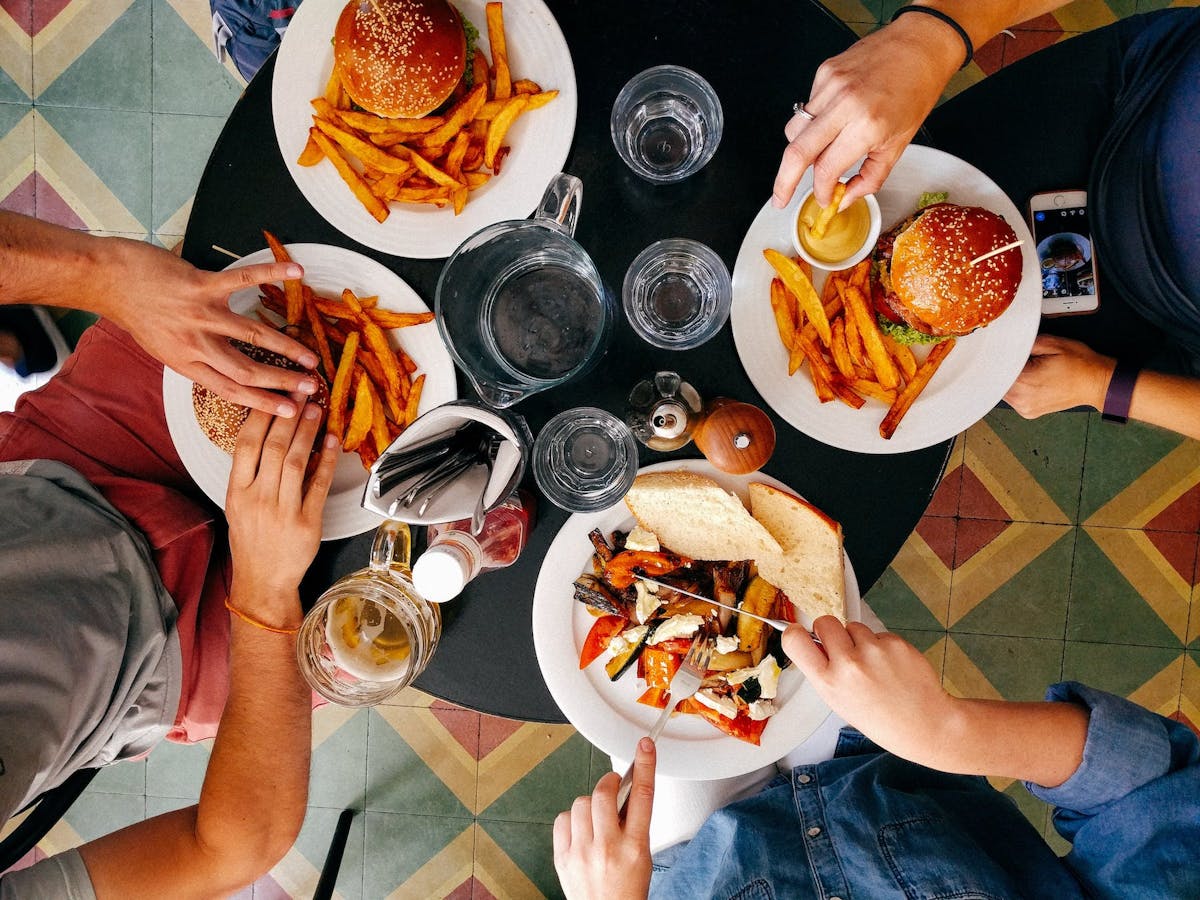 Appetizers
Pulled Pork Nachos

Pulled pork, house made Pico de Gallo, red onions, jalapenos, queso, and our sweet barbecue sauce.

$15.20

Chicken Nachos

Shredded chicken, Colby Jack, house made Pico de Gallo, red onions, jalapenos, and queso.

$14.20

Quesadilla

Half quesadilla, stuffed with Colby Jack, house made Pico de Gallo, green chile sauce, with choice of meat - pulled pork, Crack chicken, shredded chicken, or brisket.

$10.70

Mozzarella Chips

Our freshly sliced Mozzarella chips are hand breaded, deep fried, and quite frankly, make frozen cheese sticks feel inadequate.

$11.20

Sriracha Candied Bacon

Thick, platter cut bacon, with a perfect balance of sweet & spicy. Side note: this should really be called "Floor Bacon" - it's so good that the 10 second rule doesn't apply.

$11.70

Smoked Wings

Served naked (to clarify: the wings are naked - all humans involved remain clothed). Our wings are seasoned, smoked, and served with your choice of Buffalo sauce, Bleu cheese, or any of our house made barbecue sauces on the side.

(6) $11.70

(12) $21.70

Sliders

Choice of 3 sliders - Cheeseburger, hamburger, pulled pork, brisket, crack chicken, or Sriracha candied bacon siders - but if you don't add peanut butter to the candied bacon sliders, you're doing it wrong.

(3) $13.20

Dips and Chips

Fresh tortilla chips with your choice of a dipping sauce: house made salsa, queso, or our creamy jalapeno dip - go ahead and get all three - nobody likes limits.

$5.70

Each Additional Sauce: Salsa, Creamy Jalapeno, Queso $1

Smoked BBQ Shrimp

Seasoned and smoked jumbo shrimp, finished in our house made sweet barbecue sauce.

$14.20

Combo Platter

Half of a chicken quesadilla, hand breaded chicken strips, mozzarella chips, and Sriracha candied bacon.

$21.70

ET's Seasoned French Fries

Fries topped with our blend of seasonings, including black truffle salt and garlic.

$9.20

Crack French Fries

Big enough to share, but ok to eat all by yourself - no judgement - fries smothered in our Crack sauce, sprinkled with chopped Sriracha candied bacon.

$9.20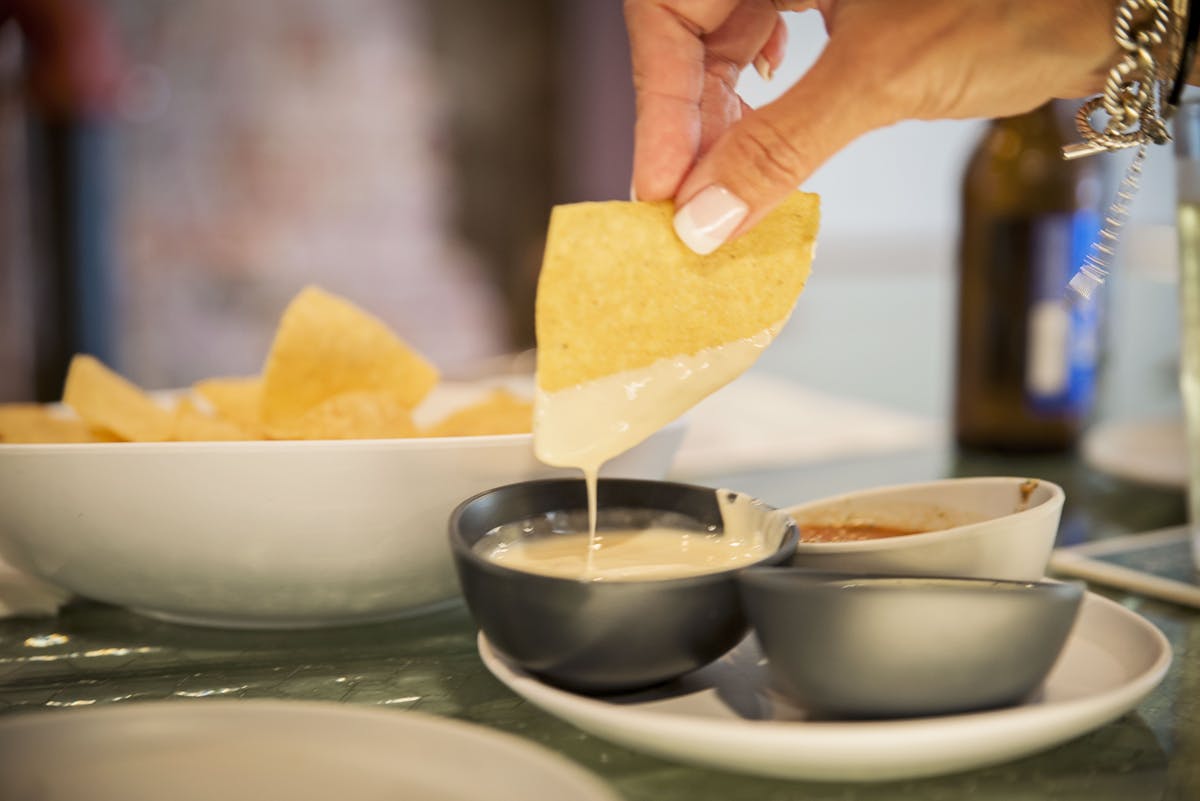 Slide 1 of 4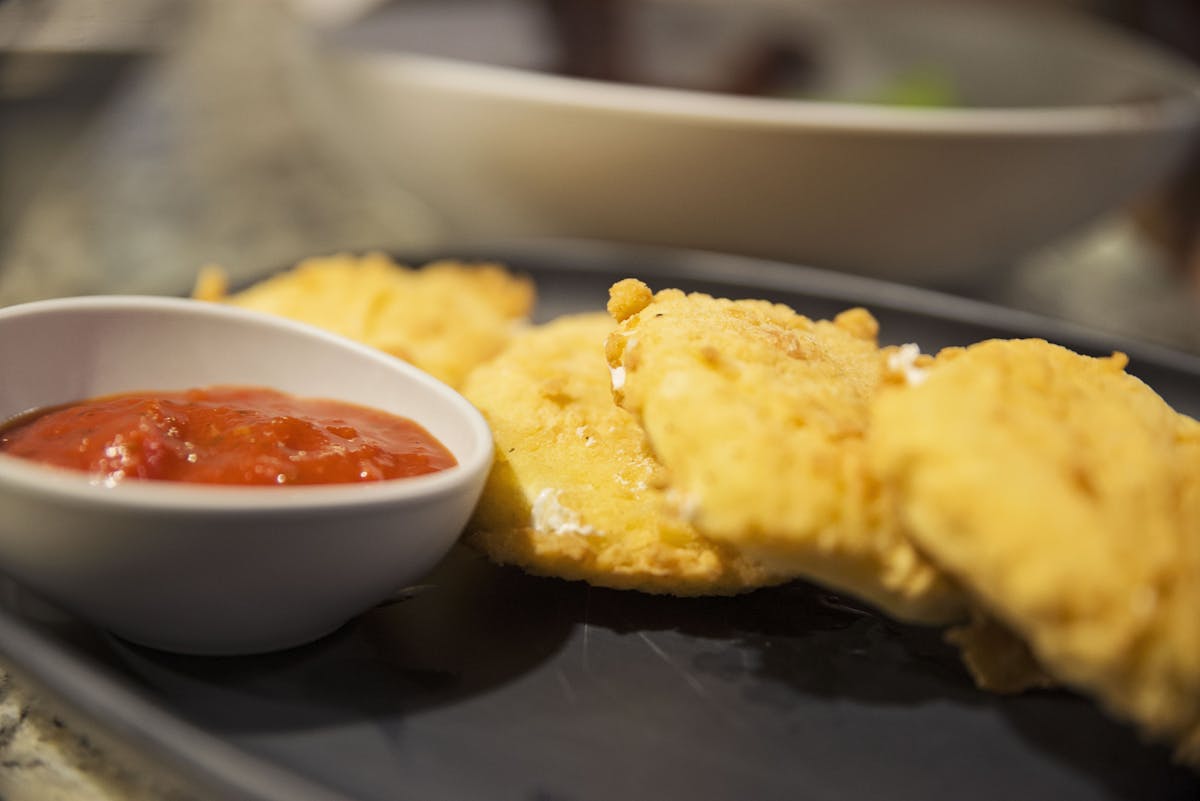 Slide 2 of 4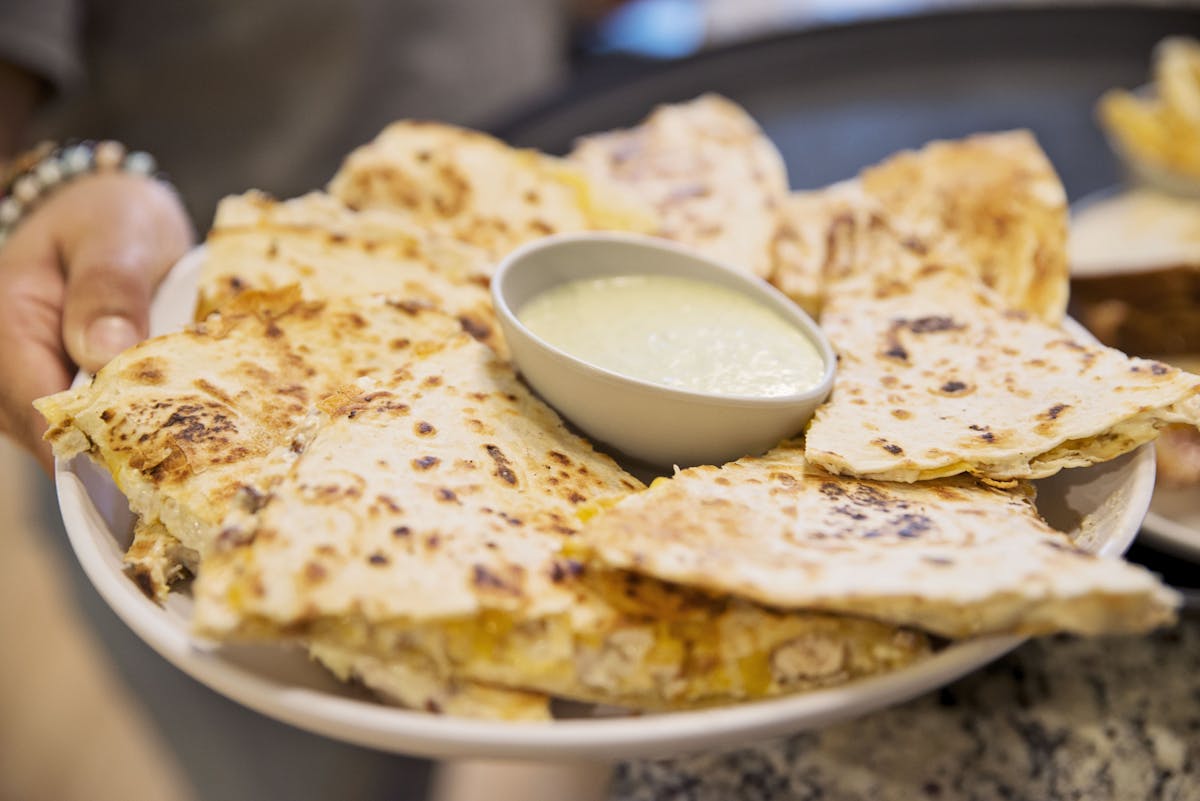 Slide 3 of 4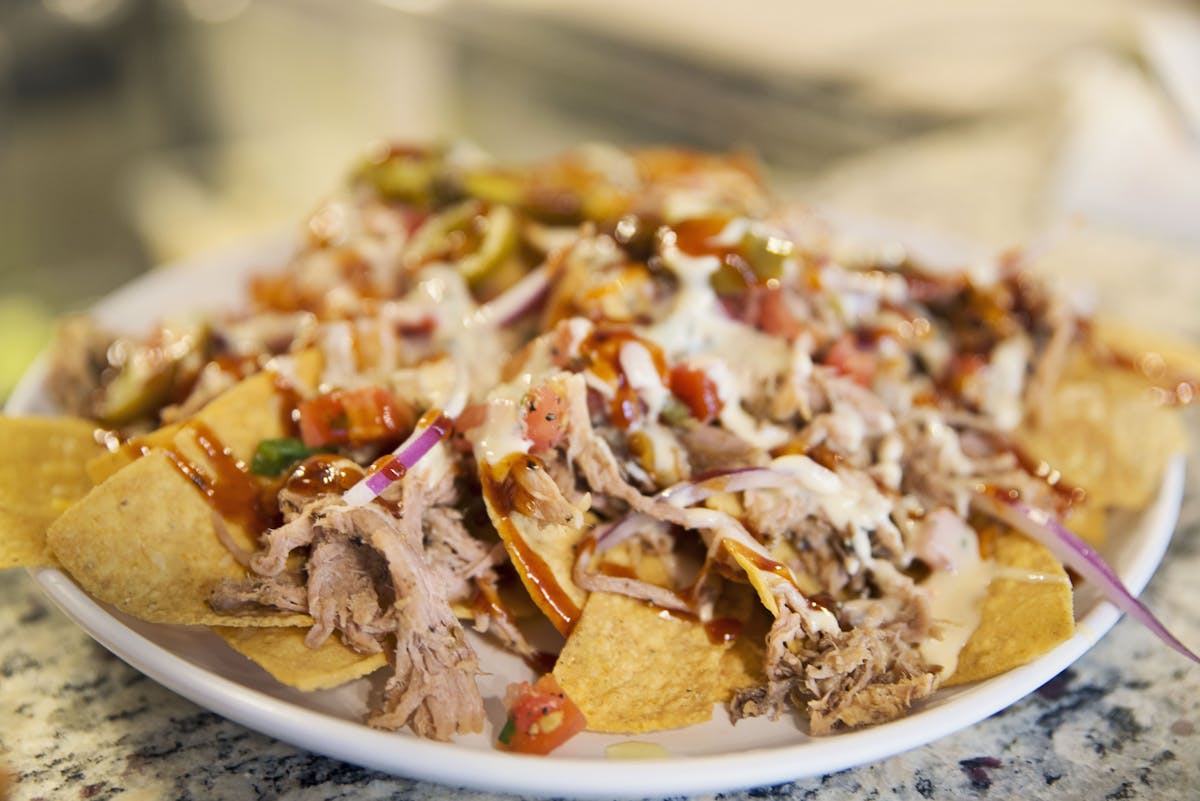 Slide 4 of 4
BBQ
Sides with any sandwich: French fries, baked beans, potato salad, cottage cheese, cole slaw. Premium Sides - Add $1 to any sandwich: Crack fries, onion rings, ET's seasoned fries, side salad, sweet potato fries, Kraft mac & cheese
Pulled Pork Sandwich with choice of a side

$12.70

Beef Brisket Sandwich with choice of a side

$15.30

Add Premium Side $1

Pulled Pork Platter with choice of 2 sides

$19.70

Beef Brisket Platter with choice of 2 sides

Hand carved Smoked Brisket, served with your choice of two sides

$23.30

Shrimp Platter with choice of 2 sides

Seasoned and Smoked Jumbo Shrimp, finished in our Sweet Barbecue Sauce

$22.80

Combo Platter - 2 meats with choice of 2 sides

Choose from Pulled Pork, Crack Chicken, Brisket, or Smoked Shrimp

$24.20

Combo Platter - 3 meats with choice of 2 sides

Choose from Pulled Pork, Crack Chicken, Brisket, or Smoked Shrimp

$28.70
Salads
Side Salad

Spring mix, red onions, shredded Colby Jack, tomatoes, and house made croutons

$6.20

Grilled or Breaded Chicken Salad

Fresh spring mix, red onions, chopped Sriracha candied bacon, tomatoes, shredded Colby Jack, house made croutons, and hard boiled egg, with a grilled or breaded chicken breast

$14.70

Spinach Salad with Strawberries and Feta

Baby spinach, candied pecans, red onions, fresh strawberries, chopped Sriracha candied bacon, and Feta cheese

$10.60

Add Chicken $15.30

Brisket and Blue Cheese Salad

Chopped Romaine, brisket, bleu cheese, red onions, tomatoes, house made croutons, and hard boiled egg

$16.20

Wedge Salad

Wedge of Iceberg lettuce, shredded Colby Jack, tomatoes, red onions, chopped Sriracha candied bacon

$9.20

Add Chicken or Brisket $13.70

Cobb Salad

Spring mix, grilled chicken breast, avocado, hard boiled egg, red onions, chopped Sriracha candied bacon, tomatoes, shredded Colby Jack

$14.70

Blackened Chicken Caesar Salad

Chopped Romaine, blackened chicken breast, croutons, and Parmesan, with our house made Caesar dressing

$14.70

Salad Dressings

Ranch

1000 Island

Bleu Cheese

Balsamic Vinaigrette

French

Sweet Onion

Honey Mustard

Caesar

Raspberry Vinaigrette
Burgers/Chicken
Sides with any sandwich: French fries, baked beans, potato salad, cottage cheese, cole slaw. Premium Sides - Add $1 to any sandwich: Crack fries, onion rings, ET's seasoned fries, side salad, sweet potato fries, Kraft mac & cheese
Skinny Burger

Our custom 5 oz. Burger, with your choice of toppings

$10.20

Fat Burger

Go ahead and get the Fat Burger - you can eat healthy at home - 7 oz. thick burger

$11.20

Veggie Burger

Our vegan burger includes brown rice, quinoa, bulgur, roasted corn, black beans, mushrooms, and roasted red peppers.

$10.70

Grilled Chicken Breast

$10.20

Breaded Chicken Breast

$10.20

Lettuce

Tomato

Onion

Pickle

Jalapeno

Sautéed Mushrooms $1

Caramelized Onions $1

Bacon $1

Pineapple $1

Avocado $1

Green Chile Sauce $1

Cheese $1

Mozzarella Chip $2

Candied Bacon $2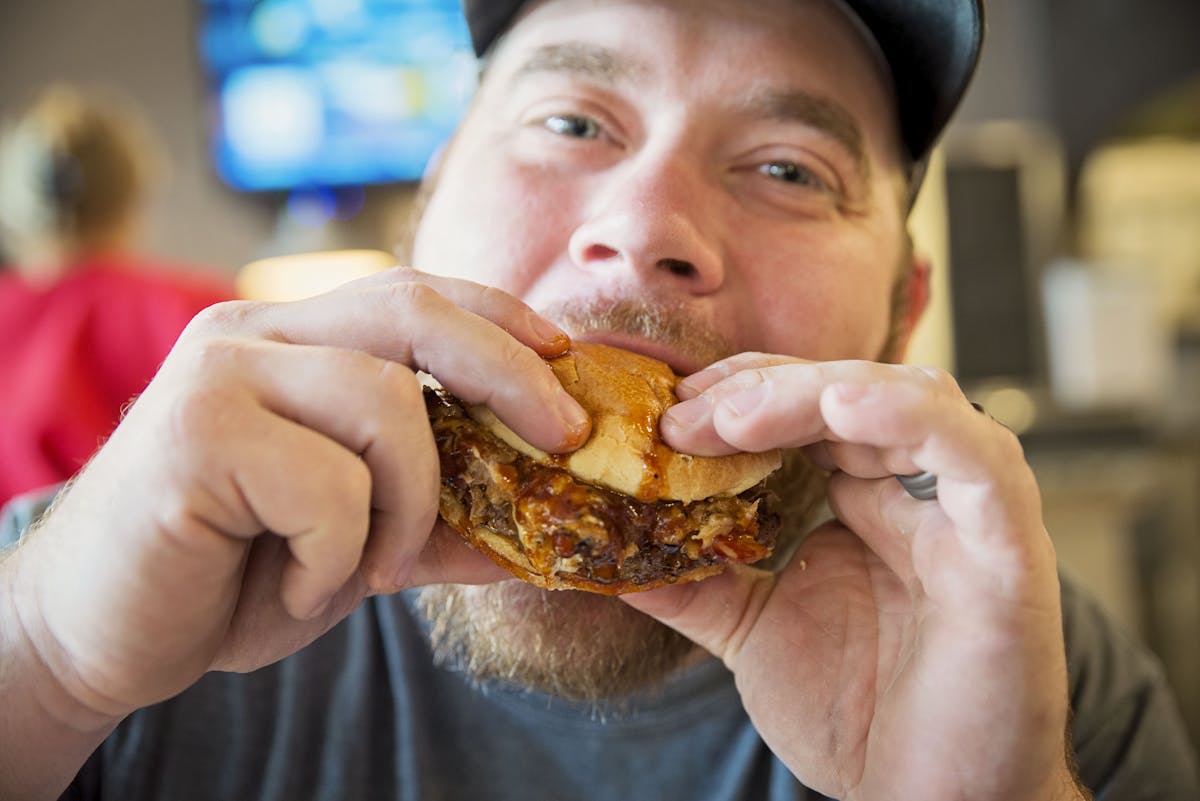 Specialty Burgers/Chicken
Sides with any sandwich: French fries, baked beans, potato salad, cottage cheese, cole slaw. Premium Sides - Add $1 to any sandwich: Crack fries, onion rings, ET's seasoned fries, side salad, sweet potato fries, Kraft mac & cheese
Bacon, Cheese, and Caramelized Onions

Skinny Burger / Chicken Breast $12.20

Fat Burger $13.20

Green Chile Sauce and Pepper Jack Cheese

Skinny Burger / Chicken Breast $12.20

Fat Burger $13.20

Caprese

Mozzarella Chip, Tomato, Basil, and Balsamic

Skinny Burger / Chicken Breast $12.20

Fat Burger $13.20

California

Avocado, Bacon, and Swiss

Skinny Burger / Chicken Breast $12.20

Fat Burger $13.20

BBQ and Cheddar

Skinny Burger / Chicken Breast $11.20

Fat Burger $12.20

Hawaiian

Sriracha Candied Bacon, Pineapple, Swiss Cheese, and Teriyaki Sauce

Skinny Burger / Chicken Breast $13.20

Fat Burger $14.20

BBQ Pork, Bacon, and Queso

Skinny Burger / Chicken Breast $13.20

Fat Burger $14.20

Salsa, Jalapeno, and Pepper Jack Cheese

Skinny Burger / Chicken Breast $11.20

Fat Burger $12.20

Mushroom, Caramelized Onions, and Swiss

Skinny Burger / Chicken Breast $12.20

Fat Burger $13.20

Blue Cheese, BBQ Sauce, and Bacon

Skinny Burger / Chicken Breast $12.20

Fat Burger $13.20
Sandwiches
Sides with any sandwich: French fries, baked beans, potato salad, cottage cheese, cole slaw. Premium Sides - Add $1 to any sandwich: Crack fries, onion rings, ET's seasoned fries, side salad, sweet potato fries, Kraft mac & cheese
Crack Chicken

Shredded chicken tossed with Sriracha candied bacon in our cream cheese based sauce, served on a Brioche bun

$12.30

Grilled Pork

Seasoned & grilled pork tenderloin

$12.30

Breaded Pork

Hand breaded and deep fried pork tenderloin

$12.30

Grilled Cheese

American cheese on grilled Sourdough - perfect with one of our house made soups or our brisket chili

$9.70

Sriracha Candied Bacon Grilled Cheese

American cheese & Sriracha candied bacon, served on grilled sourdough

$13.30

Grilled Ham and Cheese

Grilled ham and cheese served on sourdough

$12.70

Grilled Bacon, Tomato, and Cheese

Bacon, tomato, and cheese served on grilled sourdough

$12.70

Cuban — Pressed

Pulled pork, ham, Swiss cheese, mustard & pickles, served hot on a pressed French roll

$13.70

Italian — Pressed

Ham, salami, pepperoni & Swiss cheese, served on a pressed French roll, with sweet onion dressing on the side

$12.70

BLT Sandwich

Our BLTS are served with 4 strips of bacon, tomatoes, and lettuce, on grilled sourdough

$11.70

Chicken Strips

Fresh cut & hand breaded chicken strips

$12.30
Kid's Menu
includes small drink Sides with any sandwich: French fries, baked beans, potato salad, cottage cheese, cole slaw. Premium Sides - Add $1 to any sandwich: Crack fries, onion rings, ET's seasoned fries, side salad, sweet potato fries, Kraft mac & cheese
Burger, Chicken Strips, Mini Corn Dogs, or Kraft Macaroni and Cheese

$7.20
Sides with any sandwich: French fries, baked beans, potato salad, cottage cheese, cole slaw.
Premium Sides - Add $1 to any sandwich: Crack fries, onion rings, ET's seasoned fries, side salad, sweet potato fries, Kraft mac & cheese
Available Friday nights: Smoked Mac & Cheese, sauteed mushrooms
We have a rotating selection of house made desserts - favorites include Chocolate Amaretto Cheesecake bites, Italian Cream Cake, Mini Cupcakes, Chocolate Tart, and Banana Pudding Cheesecake bites - ask your server for details!
Take home any of our house made barbecue sauces, dressings, salsa, or creamy jalapeno dip!
Featured Cocktails
Old Fashioned

Whiskey, simple syrup, bitters, orange peel, and rocks - that's it. Muddled fruit in an Old Fashioned may be the harbinger of the Apocalypse.

Manhattan

Sometimes less really is more - whiskey, bitters, sweet vermouth, and a bourbon cherry.

I'm Your Huckleberry

Huckleberry vodka, house made lavender simple syrup, and lemonade (unfortunately, a side of Val Kilmer in Tombstone is not optional)

Peach Palmer

If Arnie was a drinker...Crown Peach, tea, and lemonade

Paloma

21 Seeds Grapefruit Hibiscus Tequila, fresh lime juice, kosher salt, and Fresca
Whiskey
1792 Small Batch - 1792 Single Barrel - 1792 Full Proof - 2XO Phoenix Blend - Angel's Envy Bourbon - Angle's Envy Rye - Bardstown Bourbon Fusion #6 - Barrell Batch 30 - Barrell Batch 31 - Barrell Armida - Barrell Seagrass Rye - Barrell Seagrass Grey 16 year - Barrell Vantage - Barrell Bourbon Craft Gold - Barrell New Year - Basil Haydens - Blackened Rye - Blanton's - Blue Run High Rye Bourbon - Blue Run Golden Rye - Bird Dog Salted Caramel - Buffalo Trace - Buffalo Trace Kosher Rye - Bulleit Bourbon - Bulleit Bourbon Barrel Strength - Bulleit Rye - Calumet 10 year - Calumet 14 year - Calumet 15 year - Calumet 16 year - Canadian Club - Castle and Key Restoration Rye - Cedar Ridge Single Barrel - Chattanooga Bourbon #111 - Chattanooga Bourbon #91 - Chicken Cock Chanticleer - Chicken Cock Bourbon - Chicken Cock Rye - Crown Royal - Crown Apple - Crown Peach - Crown Vanilla - Daviess County Double Barrel - Dewars - Dickle Leopold Rye - Eagle Rare - EH Taylor Small Batch - EH Taylor Single Barrel - EH Taylor Barrel Proof - Elijah Craig - Elijah Craig Barrel Proof - Elijah Craig Rye - Evan Williams Honey - Famous Grouse - Fireball - Four Roses Small Batch - Four Roses Small Batch Select - Four Roses Single Barrel - Further Four Season Bourbon - Further Four Seasons Rye - George Remus - George Remus Reserve IV - Hancock Reserve - Heavens Door Double Barrel - Heavens Door Rye - Heavens Door Straight Bourbon - High West Rendezvous Rye - IW Harper Cabernet Cask - IW Harper 15 year - Jack Daniels - Jack Daniels Single / Barrel Proof - Jack Daniels 1938 BIB - Jack Daniels 1938 Triple Mash - Jamesons - Jamesons Caskmates - Jeffersons Ocean - Jim Beam - Johnny Drum - Johnny Walker Black - Joseph Magnus Bourbon - Kentucky Owl Confiscated - Kentucky Owl St. Pat's - Kentucky Owl Takumi Edition - Fentucky Owl Wiseman - Knob Creek - Knob Creek 12 year - Knob Creek 15 year - Knob Creek Rye - Lagavulin 8 year - Lock Stock & Barrel 20 year Rye - Macallan 12 year - Makers Mark - Makers Mark 46 - Murray Hill - New Riff Balboa Rye - New Riff Malted Rye - New Riff Single Barrel Rye - New Riff BIB Rye - New Riff BIB Bourbon - New Riff Single Barrel Bourbon - Noah's Mill - Noble Oak bourbon - Noble Oak Rye - Old Forester 100 PF Signature - Old Forester 1920 - Old Forester Statesman - Old Forester 1910 - Old Forester Rye - Oola Bourbon - Orphan Barrel Fable & Folly - Peerless Bourbon - Peerless Double Oaked Bourbon - Peerless Small Batch Rye - Pinhook Bourbon 4 year - Pinhook Bourbon 6 year - Pinhook Rye 4 year - Pure Kentucky Extra Old - Rebel 100 - Redemption High Rye SBS - Redbreast - Resilient Straight Bourbon - Restoration Rye - Revel Stokes Peach - Revel Stokes Smoked Vanilla - Rock Hill Farms - Rossville Master Craft Rye - Rowens Creek - Russel Reserve 10 year - Sazerac Rye - Seagrams Seven - Skrewball - Southern Comfort - Stagg Jr. - Templeton 4 year - Templeton Single Barrel 10 year - Templeton SBS - Templeton Rye 6 year - Thomas Moore Chardonnay Finish - Thomas Moore Cabernet Finish - Tullamore Dew - Weller Antique - Weller Special Reserve - Weller 12 year - WhistlePig Boss Hog 9 Siren's Song - WhistlePig Boss Hog 8 LapuLapu's Pacific - WhistlePig Brothers Osborne - WhistlePig Smokestack - WhistlePig Farmstock Rye - WhistlePig Piggyback - WhistlePig Roadstock Rye - Widow Jane 10 year - Widow Jane Rye - Wild Turkey - Willet Pot Still Reserve - Willet Small Batch 4 year Rye - Woodford Reserve - Woodford Reserve Double Oaked - Woodford Reserve Rye - Yellowstone
Tequila
21 Seeds Grapefruit Hibiscus - 21 Seeds Cucumber Jalapeno - Don Julio 1492 - Don Julio Blanco - Don Julio Reposado - Espolon Blanco - Espolon Reposado - Herradura Ultra Anejo - Maestro Dobel Diamante - Milagro Blanco - Milagro Reposado - Siete Leguas
Vodka
Absolut - Blue Ice Huckleberry - Chopin Rye - Ketel One - New Amsterdam Pink Whitney - Smirnoff - Stoli - Stoli Elit - Stoli Blueberry - Stoli Peach - Stoli Vanilla - Tito's
Rum
Bacardi - Blue Chair Bay Banana - Blue Chair Bay Lime Cream - Blue Chair Bay Vanilla - Captain Morgan - Captain Morgan Cherry Vanilla - Diplomatico - Koloa Kauai Coconut - Koloa Kauai Cacao - Rumhaven - Trader Vic's Dark Rum
Gin
Beefeater - Botanist - Castle & Key Roots of Ruin - Engine - Fords - Harahorn - Hendricks - New Riff Kentucky Wild - New Riff Barrel Aged - Nolet - Tanqueray
Liqueurs, Cordials, Brandy & More
Bailey's - Baily's Salted Caramel - Buffalo Trace Bourbon Cream - Cointreau - Creme de Menthe - di Amore Amaretto - di Amore Raspberry - Galliano - Giffard creme de Violette - Hennessy - Jagermeister - Kahlua - Luxardo - Malort - McGillicuddy's Cherry - McGillicuddy's Butterscoth - Midnight Moon Moonshine - Mr Black's Coffee - Pere Dom Napolean Brandy - Rumchata - Rumpleminze - St. George Absinthe - Trader Vic's Chocolate - Trader Vic's White Chocolate
Beer, Ciders, & Seltzers
Abita Purple Haze - Ace's Pear Cider - Alaska Amber Ale - Angry Orchard - Bell's Two Hearted - Blind Pig Reserve - Blue Moon - Blue Moon Light Sky - Brickstone APA - Bud Light - Bud Light Next - Bud Select - Bud - Busch - Busch Light - Coors Banquet - Coors Light - Corona - Corona Premiere - Destihl Hawaii Five Ale - Dirty Bastard Left Hand Stout - Firestone Walker 805 - Founders All Day IPA - Goose Island 312 - Goose Island Hazy IPA - Great Lakes Edmund Fitzgerald - Guinness - Half Acre Bodem IPA - Hand of Fate Double Bean Dream - Heavy Riff Velvet Underbrown - Heinekin - High Noon - Kona Big Wave - Leinenkugel Summer Shandy - Maplewood Fat Pug Milk Stout - Michelob Golden - Michelob Ultra - Miller High Life - Miller Light - Modelo - New Belgium Voodoo Ranger - Revolution Anti-Hero - Revolution Freedom of Speach - Sam Adams - Schlafly Kolsch - Shiner Bock - Stella Artois - Truly - Twisted Tea - Two Bothers Domaine Dupage Ale
On Tap

Riggs Hefeweizen - Riggs Weizenbock - Triptych Dank Meme - Triptych Parker Porter - Blind Pig U of IPA - Blind Pig Curtis Orchard Hard Cider - Disthil Hawaii Five Ale
Wine
Available by the glass: Cabernet Sauvignon, Pinot Noir, Old Vine Zinfandel, Merlot, Pinot Grigio, Chardonnay, While Zinfandel, Moscato
Beringer Bros. Bourbon Barrel Cabernet - by the bottle

Duckhorn Cabernet - by the bottle

Decoy Napa Cabernet - by the bottle

Decoy Pinot Noir - by the bottle

Decoy Red Blend - by the bottle

Decoy Zinfandel - by the bottle

Korbel Split - by the bottle

Sonoma Cutrer Chardonnay - by the bottle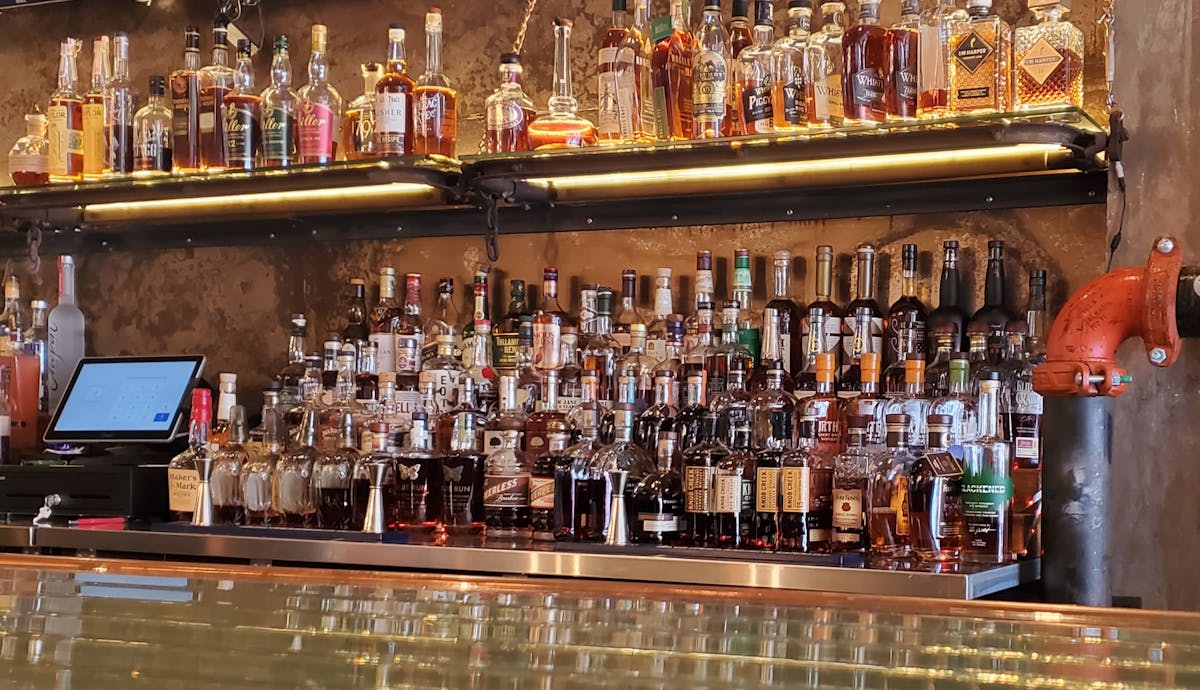 Slide 1 of 4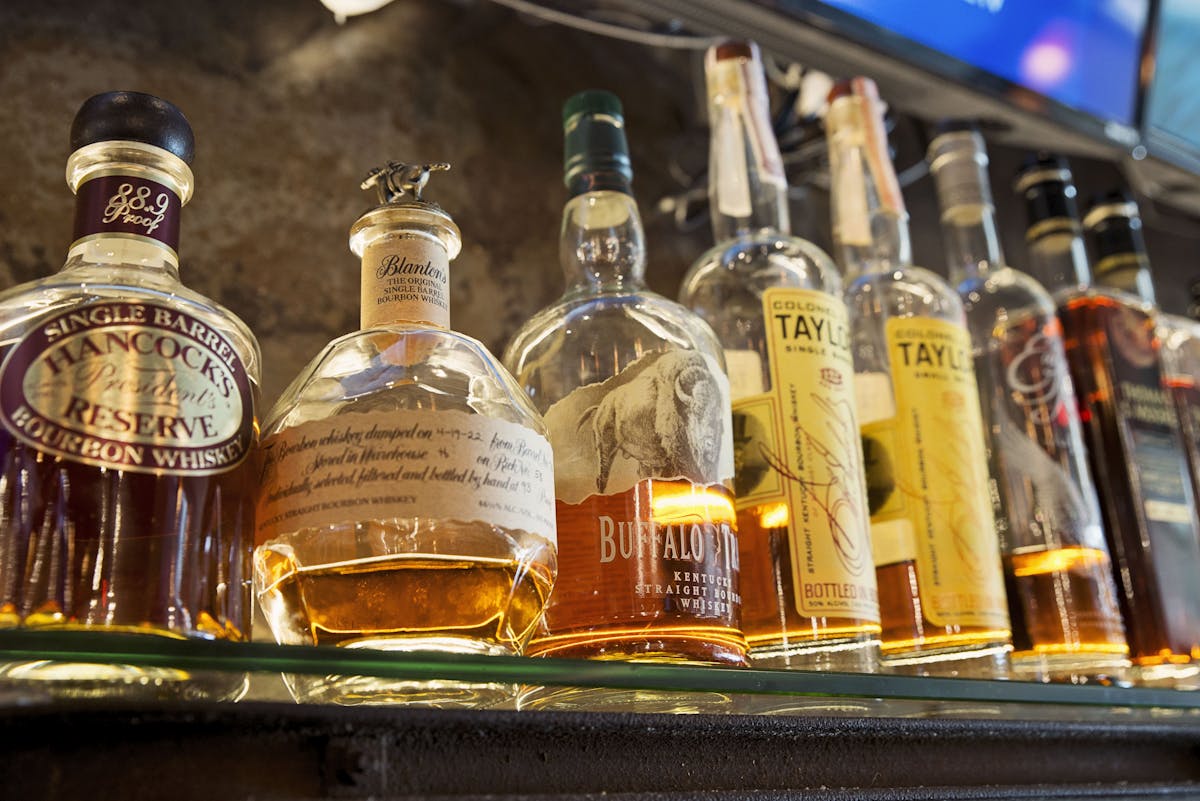 Slide 2 of 4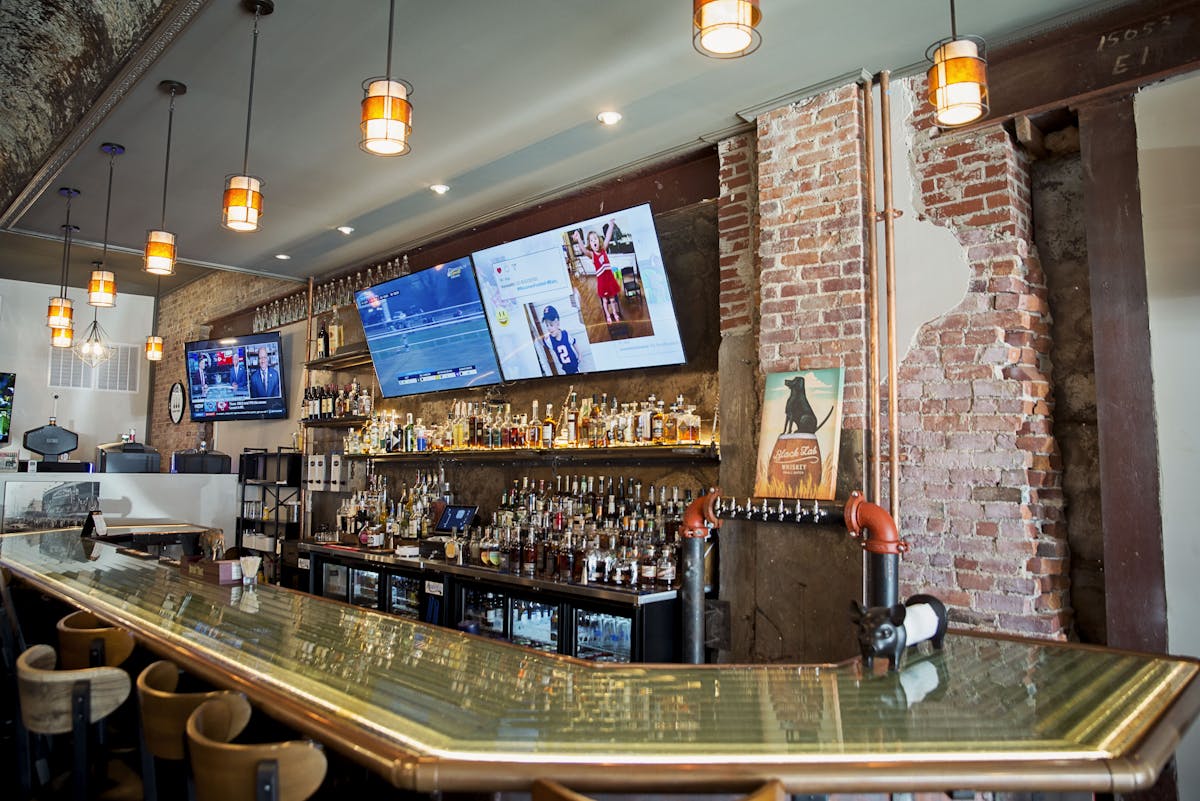 Slide 3 of 4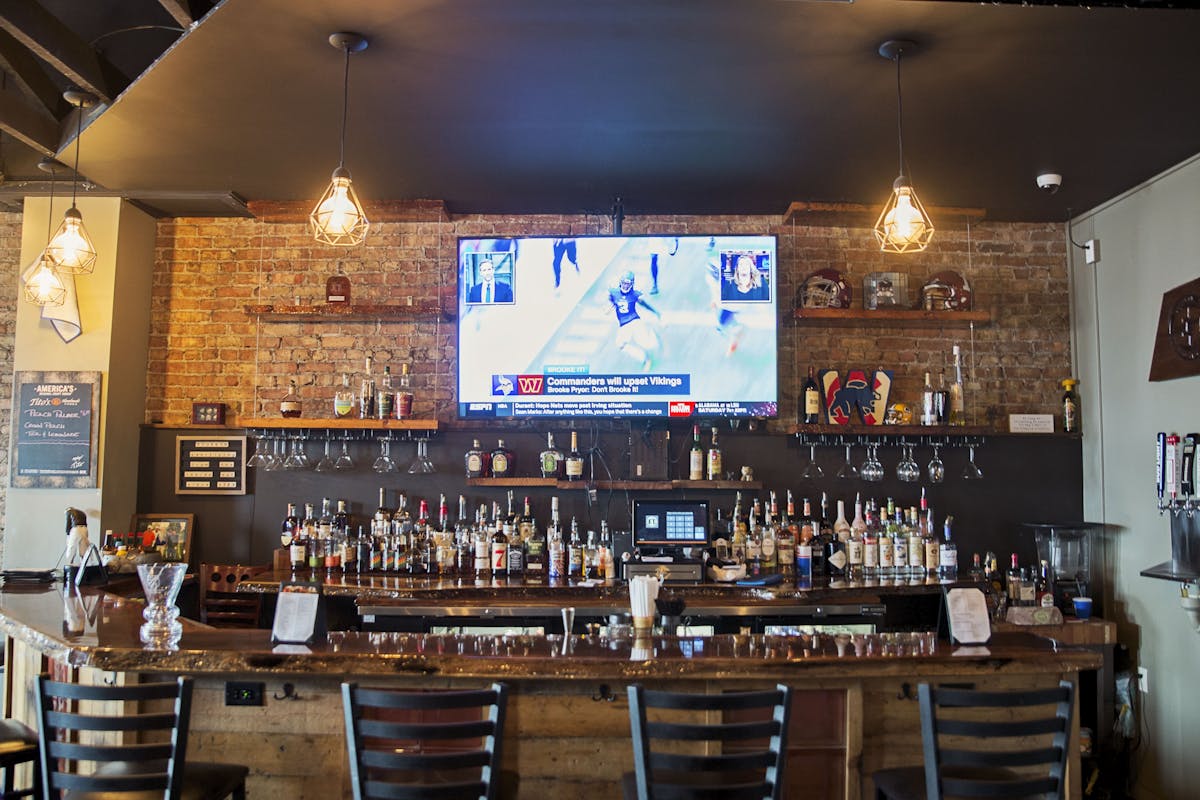 Slide 4 of 4